Let See and Think :
1. China silver output in 2010 = 104.6 million oz.

2. Equal to 1,093.6 million dirham coins (2.975 gm).

3. Based on price of RM25/dirham, it valued at RM26.84 billion.
4. Roughly China 1.3 billion population, each citizen can buy/own 1 Dirham.
5. Using same ratio of 28 million Malaysian, we all can buy/own 28 million silver Dirham valued at RM700 million ! (RM25 x 28 m ).

"China's silver market is roughly three times the size it was in 2000," CPM noted in its recently published Silver Yearbook 2011. "China is the third largest producer of mined silver in the world. China also is a major consumer of silver, absorbing large and rapidly growing volumes of silver in its electronic manufacturing sector." - MINEWEB Report 11 Mac 2011.

"Chinese silver mining witnesses significant growth and development in recent years, fueled by technological strides in exploration and an increase in production in response to steady growth in domestic and international demand," CPM said.
For instance, CPM found domestic demand for silver has outpaced supply growth. "China was a net exporter of silver until 2006, but became a net importer in 2007."
"Chinese investment demand for silver coins and medals began to rise at a double digit pace in 2008, a trend likely to continue as consumers seek to preserve their wealth amid rising inflation in the economy," CPM forecast.
The Chinese mine supply of silver totaled 102.7 million ounces in 2010, according to CPM. More than two-thirds of that output is from silver contained in copper, lead, zinc and gold concentrates. "Consequently, China's refined silver production has been growing in tandem with base metals output."
CPM predicts silver mine production could increase to 104.6 million ounces this year. "China's silver mine supply is expected to increase over the next few years, driven mainly by production expansions at silver-producing base metals mines."
Jiangxi Copper, one of the largest copper producers in China, was also among the biggest refined silver producers with 14.8 million ounces of refined silver in 2010. The country's total refined silver output in 2010 was estimated at 194.4 million ounces.
CPM forecast that Jiangxi could produce 15.6 million ounces of silver in 2011. The precious metals consultants estimated Jiangxi has about 341.8 million ounces of silver in proven reserves.
Postscript 2 :
Goldforecaster report 1 April 2011.

HSBC, the world's largest bullion dealer [in both gold and silver] is confirming that silver's role as a monetary metal is gathering the most momentum, particularly in emerging economies. They say that the macro economic trends from emerging markets are positive for both gold and silver. They put the growing Chinese middle classes [now well over 400 million people of the 1.3 billion Chinese citizens] as fueling an "explosive" growth in demand for silver as a hedge against fast rising inflation.

The Industrial and Commercial Bank of China, the world's largest bank by market value, agrees this. I.C.B.C. sold 13 tonnes [418,000 ounces] of physical silver to Chinese citizens in January, alone, compared with 32.97 tonnes [1.06 million ounces] for the whole of 2010.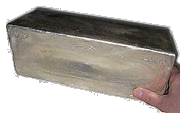 We have seen China turn from an exporter of silver to a huge importer in the last three years. And that's just the start! China was a net importer of over 3,110.42 tonnes [100 million ounces] of silver last year, whereas while it was selling 'official' holdings of silver only a few years ago it was exporting an equal amount annually.